In the early days I was no fan of pumpkins until I got to know Thai recipes with "faktong" (= Thai pumpkin).
After preparing and cooking "faktong" it tastes very sweet and maintains a bite comparable with boiled potatoes.
You have to start early enough with sowing and planting to get the pumpkins suitable for harvest. The moment of planting in open air is a gamble but the plants should never experience night frost, otherwise they will die.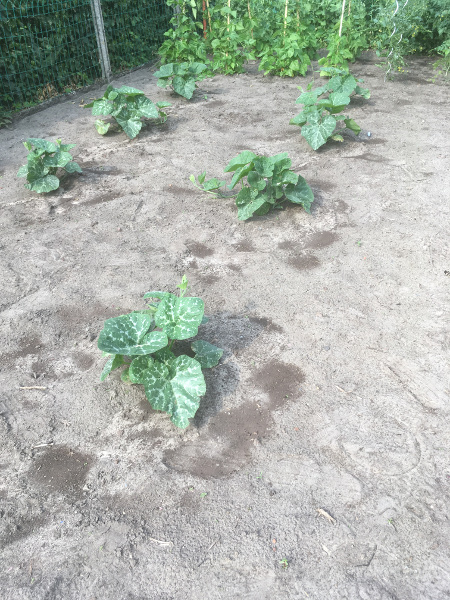 At the beginning it looks as if the plants are not growing but once it is June and it turns warmer, growth is exponentially.
1 plant can easily grow uncontrolled by many meters therefore it is recommended to install a frame so the plant can climb with its offshoots up the frame.
The pollination by means of the wind is difficult and it is better to pollinate manually. Take a male pistil and push the pollen against the female pistil.
The female flower has a sphere beneath, the male flower does not have that sphere.
During growth make sure the plant is provided with enough water.
Wait with harvesting until the pumpkins are adequately mature, otherwise shelf life is not guaranteed.
4 plants already occupy a surface of 40 m2 .