Kanchanaburi is the biggest western province of Thailand.
bridge on the river kwai
Kanchanaburi is best known due to its bridge on the river Khwae.
In 1957 the epic war movie "the bridge on the river Kwai" was released.
This movie tells the story of English and Dutch prisoners of war that were forced by the japanese occupier to build a bridge on the river Khwae in degrading and terrible conditions. 
During the built of this railway (from Non Pladuk-Thailand to Birma) many convicts died. For this reason the railway is called the "railway of death".
For the memorial of the soldiers that died in captivity there is a war cemetery in Kanchanburi that is maintained daily! The commemorative plaques are in 3 languages: Thai, English and Dutch!
erawan waterfalls
Also nice to visit are the erawan waterfalls. The entrance to the waterfalls is at ground level and one can make a walk to the upper 7th level.
Pay attention however, the higher the level the more difficult it becomes to walk on the paths. If you have little endurance or weak ankles or weak knees you should better stay at the lower levels. Take into account that you must have enough energy left to return to the base level.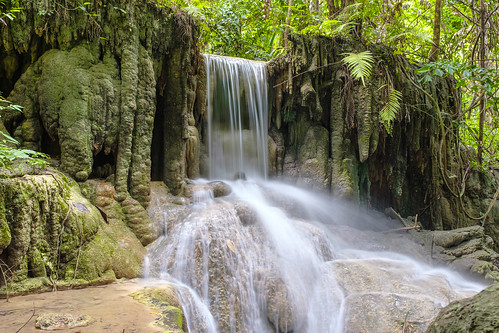 lao khwan
My family in law lives in Lao Khwan which is a part of the Kanchanaburi province.
However Lao Khwan is part of the Kanchanaburi province it is very near to the border with Suphan Buri province. The distance from Lao Khwan to capital Kanchanaburi is larger than the distance from Lao Khwan to capital Suphan Buri. For this reason most habitants of Lao Khwan go shopping in Suphan Buri and U-thong (=also an important capital in Suphan Buri province) in stead of Kanchanaburi.  
srinagarind dam
The Srinagarind dam is an artificially constructed reservoir on the Khwae Yai river in the Si Sawat District of Kanchanaburi. The purpose of this dam is to adjust the water level of the river and produce electricity. The energy station at the bottom of the dam can produce up to 720 MW (970.000 h.p.) of which 360 MW (480.000 h.p.) is pumped energy storage. The dam is called after princess Srinagarindra.